If you received a Roadtrippers Plus subscription as a gift, first, get excited for the awesome trip planning in your future! Then follow the steps below to redeem your free year.
You should have received an email with a unique coupon code that will grant you a free year of Roadtrippers Plus.
Copy that coupon code and head to https://roadtrippers.com/redeem/.
You'll be asked to sign up for an account or sign in if you already have an account.
After signing up or in, paste the coupon code from your email in the redemption code field and click Submit.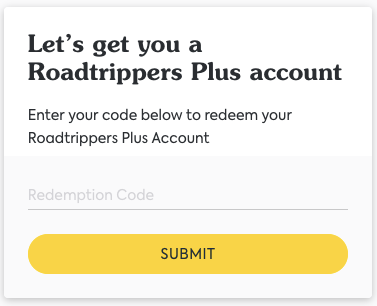 Already have Plus?
Note that if you already have a Plus subscription, you won't be able to redeem your coupon code until your current Plus subscription expires. Get in touch with us if you have any questions!