This article reviews the settings available within the Routing Options menu. Keep in mind that Routing Options is a Roadtrippers Plus feature, so if you have a free account you will not be able to turn these on.
Routing options are managed on each individual trip you create, they are not automatically applied to all of your trips. Only Roadtrippers Plus trip owners or trip collaborators can edit Routing Options. To manage Routing Options, follow the steps below for the desktop site and mobile app.
Go to your profile page, open the trip you're working on, and click the Routing Options button on the trip planner banner.
Go to the profile section, open the trip you're working on, and tap the Routing Options button at the top of the trip planner.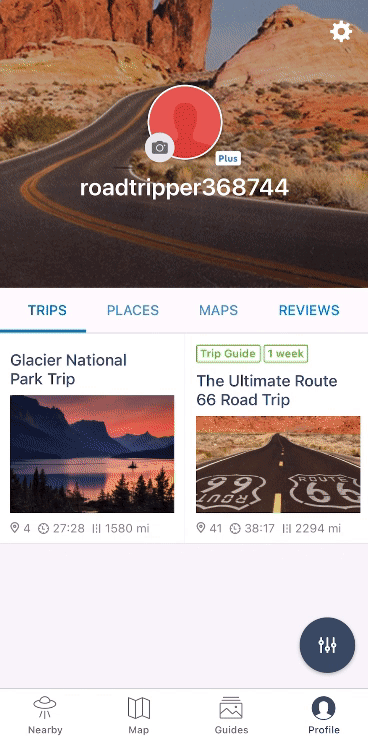 Go to the profile section, open the trip you're working on, and tap the Routing Options button at the top of the trip planner.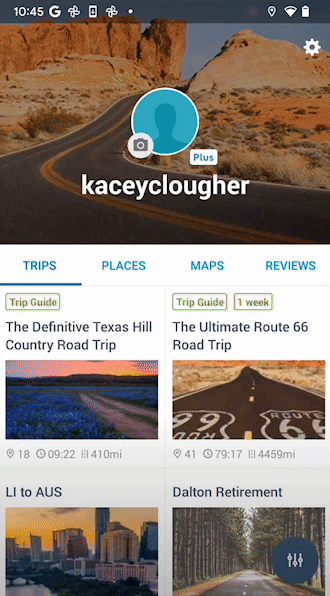 Avoidances
The options you select here will be applied to your entire trip. You can choose to avoid any or all of the following:
Highways
Tunnels
Boat Ferries
Car Shuttle Trains
Toll Roads
Dirt Roads
On the desktop site, check the boxes next to the avoidances you want to apply. In the mobile app, toggle on the avoidances you want to apply.


RV Safety
If you're an RVer, add your RV dimensions/weight in the RV Safety section and we'll try to find a safe route for your trip. Our RV routing considers weight limits of bridges, low overhead clearances, grades of terrain, and propane restrictions to give you a route customized to your RV size and weight!
Keep in mind that you need to manually provide your vehicle's dimensions here. These are not related to or automatically populated by the vehicle saved to your Roadtrippers profile, which we use to estimate fuel costs for your trip.
Propane On Board
The Propane On Board setting will attempt to route trips around specific areas in the United States where there are strict restrictions and limitations on propane on vehicles. These restrictions tend to apply to travelers regardless of propane volume onboard or if the propane valve is shut off and closed. Occasionally, these areas cannot be avoided to provide a trip route, in which case a warning will appear letting the user know we could not avoid propane-restricted areas for their route.
In all cases, we recommend reviewing road information before starting your trip, as we do not independently verify the accuracy of such routing information. Use your independent judgment, and follow local laws and traffic codes while traveling.


Route Warnings
After applying your avoidance settings and/or RV safety details, we'll work on updating your route to match your applied Routing Options.
If we were not able to find a route for any part of your trip that uses your avoidance settings or RV safety details, then you'll see warnings on any legs containing a route that violates your Routing Options. You can learn more about these warning messages here: Routing Options Warnings
Navigation
Our Routing Options feature is currently in beta and does not yet include navigation that uses your avoidance settings or RV details.
We are very excited to share the routing options feature in beta and get feedback on it, but it will not be complete and out of beta until we release an updated in-app navigation that uses the Routing Options you entered during trip planning.
If you applied routing options to your trip and then later launch navigation in the Roadtrippers mobile app, you will see a warning message that your avoidances and vehicle dimensions will not be used in GPS navigation. You can confirm that you understand and want to continue anyway, or opt to cancel and use a different navigation system.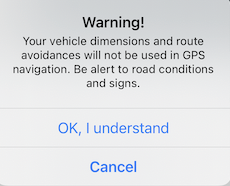 Note that you can print turn-by-turn directions for your trip based on the route using your applied Routing Options before you hit the road. You can learn more about printing directions in advance here: Can I print my trip before I hit the road?