There are a couple of different types of Trip Guides on Roadtrippers - featured trip guides from our team and partners, and personal trip guides of your own trips!
Featured Trip Guides
Featured trip guides are curated guides from the Roadtrippers team and our partners that highlight some of our best and most adventurous road trips! You can check these out for road trip inspiration, or even save the trip to your profile and take that exact trip yourself.
You can look through our featured trip guides by clicking here. If you're using our mobile app, simply tap the Guides section in the bottom navigation menu.
When you're looking at a trip, you can click Take This Trip to save it to your trips where you'll be able to customize it further or click View Map (map icon in mobile) to see all the stops laid out on a map.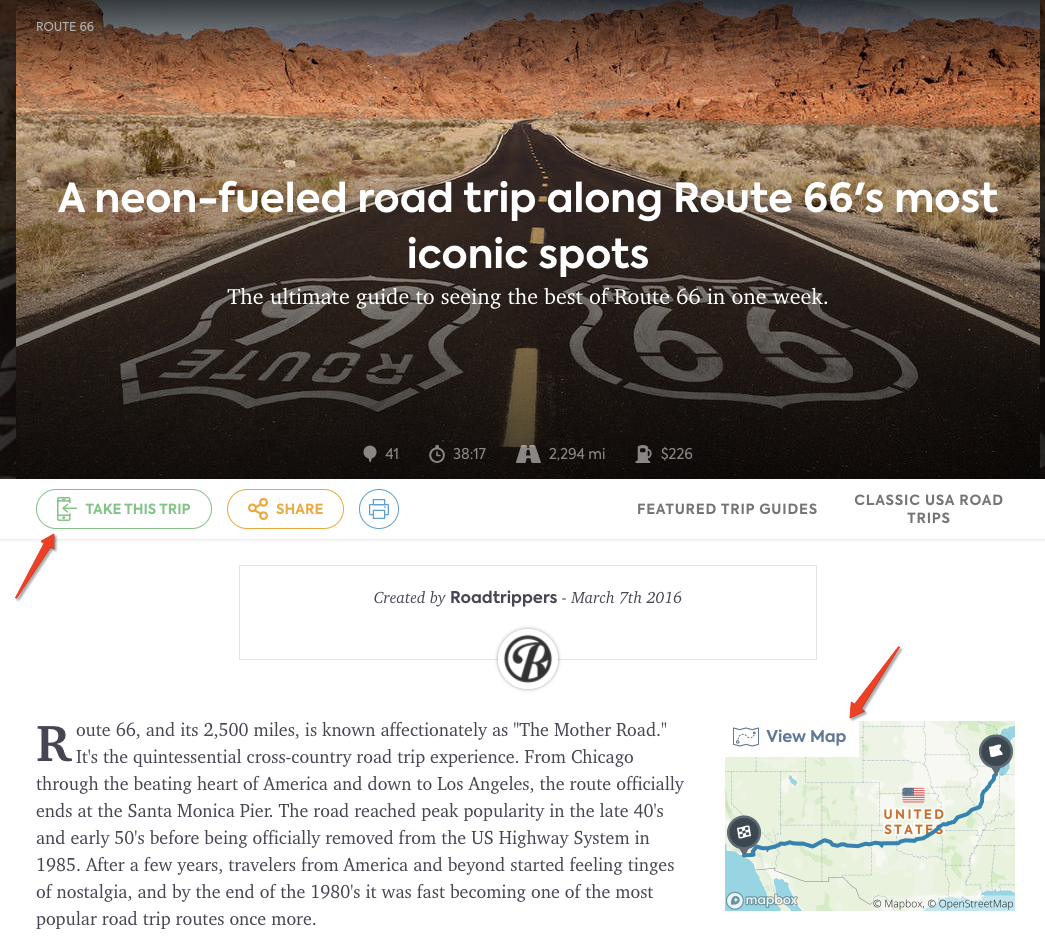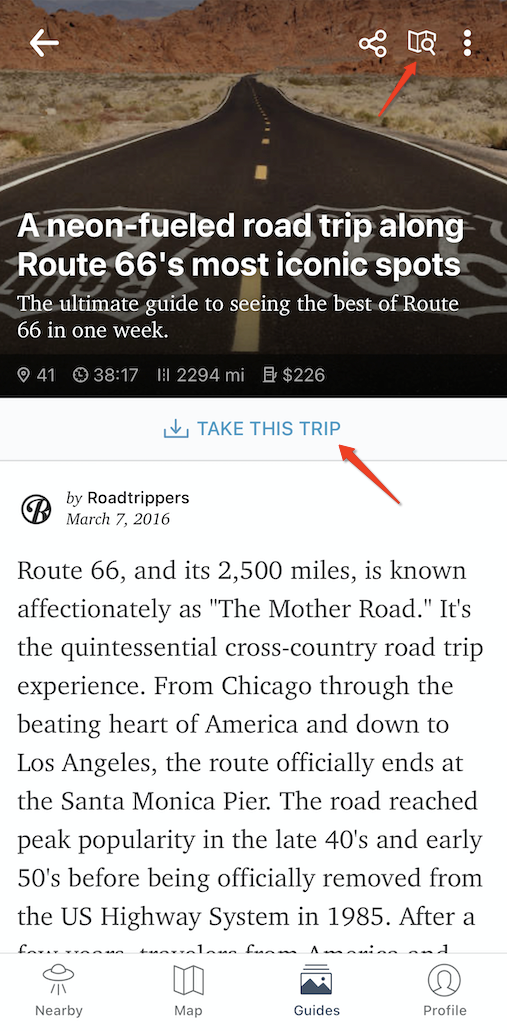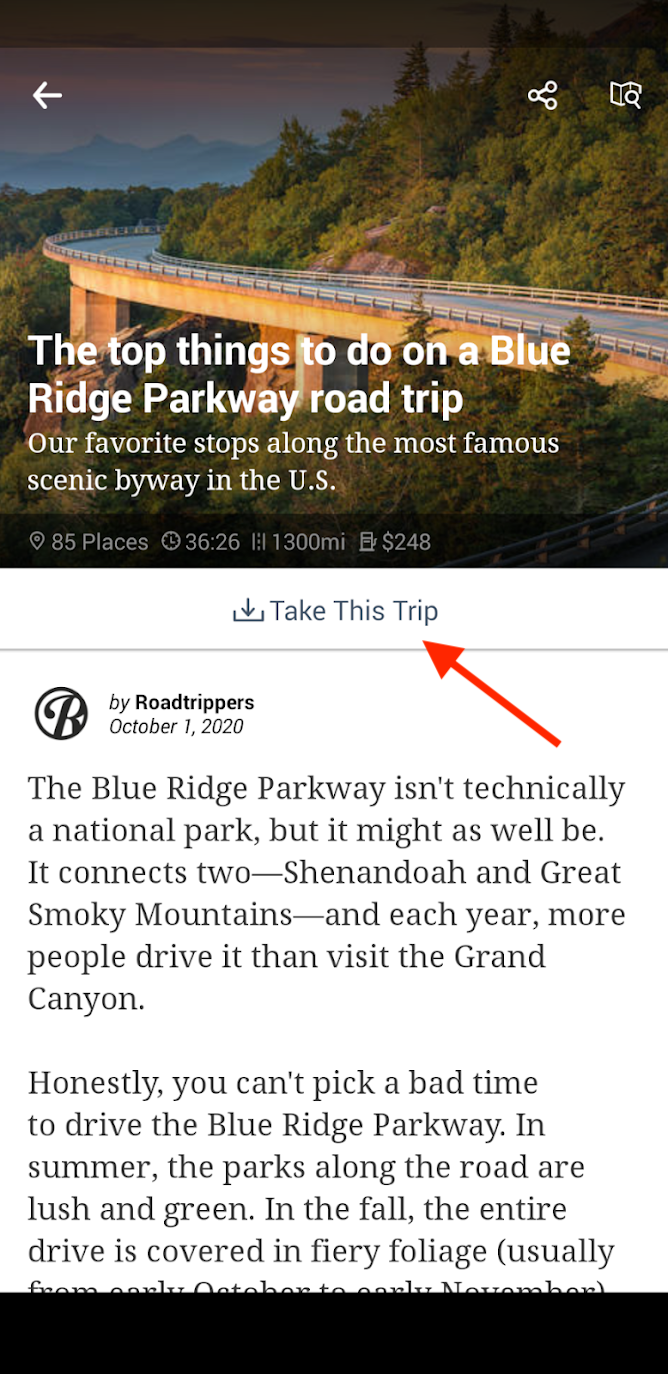 Personal Trip Guides
You can now add even more information about your road trip and build your own trip guide directly from your road trip plans. This allows every user to tell a story about their journey.
Trip guides are generated for every trip created and updated as changes are made. To look at your own trip guides, load your trip on the trip planner and click View Guide on the web app/desktop site or tap Guide on the mobile app.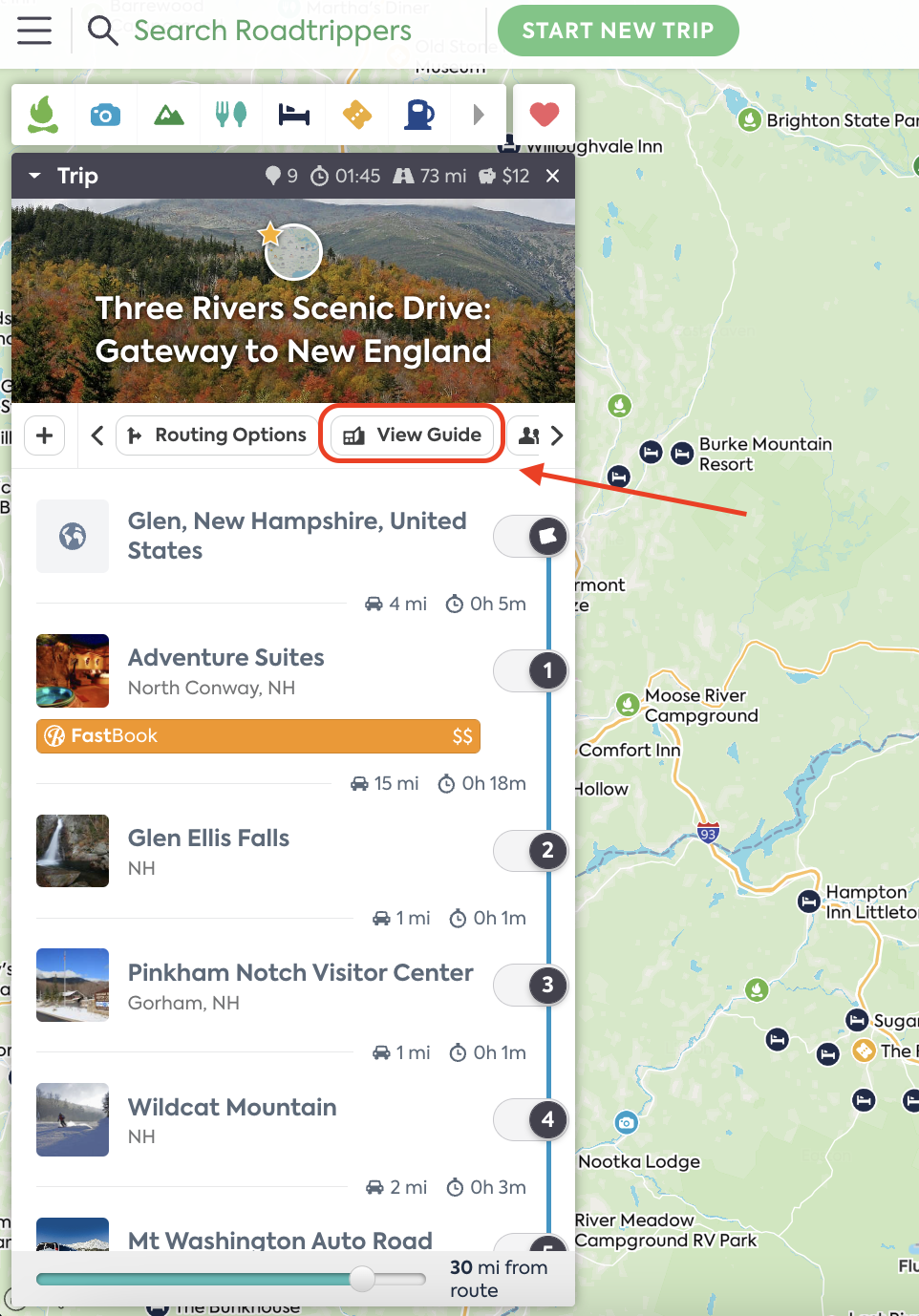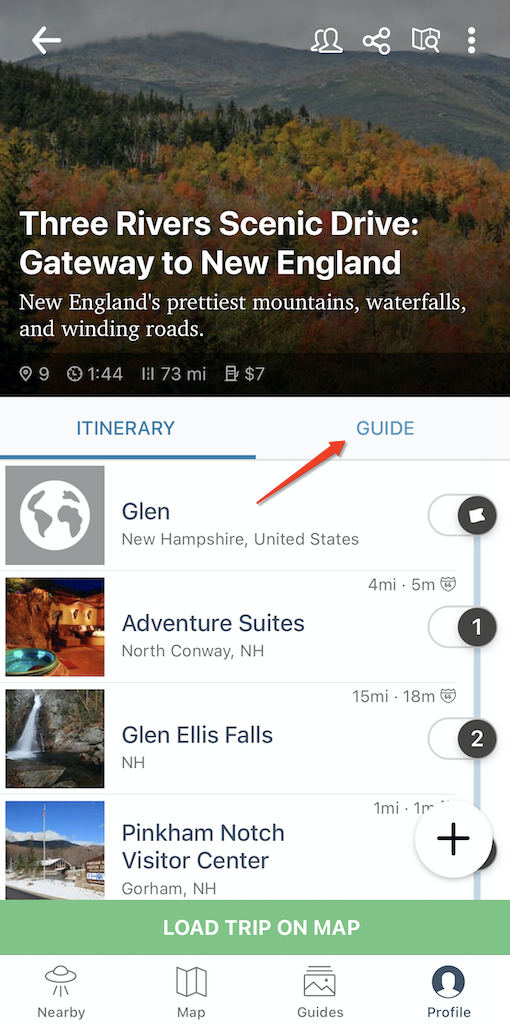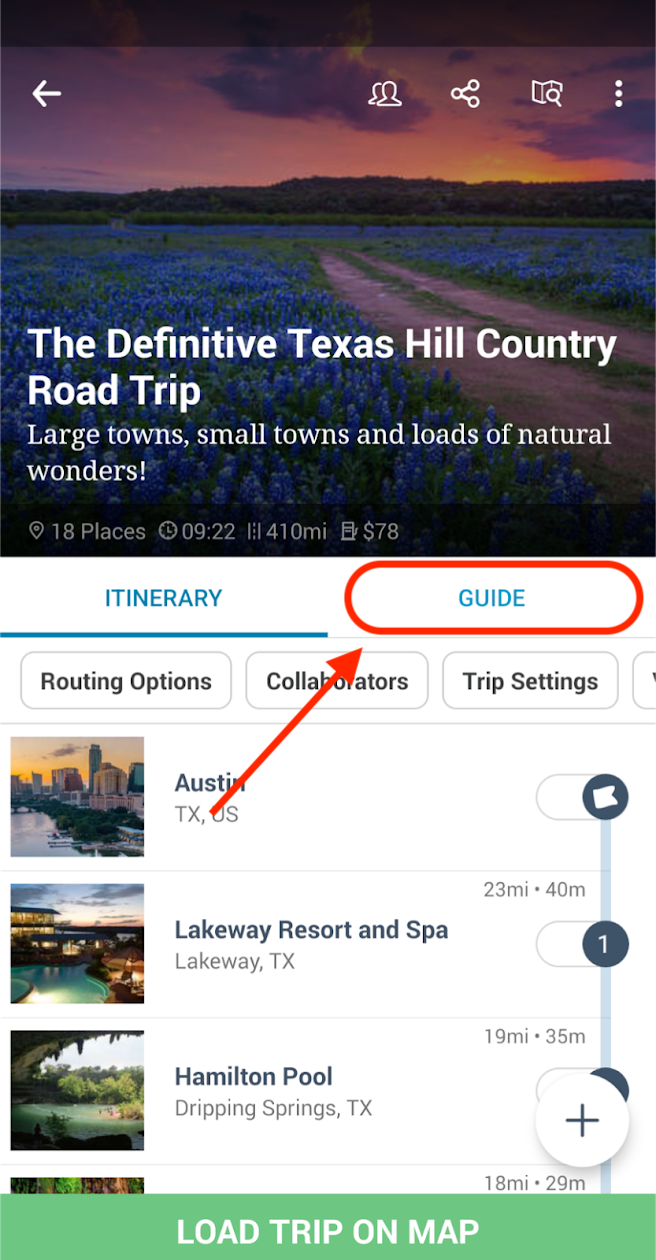 For travel bloggers, this is a great way to make your annotated trip a public guide for the rest of Roadtrippers' community to share and use on their own trips.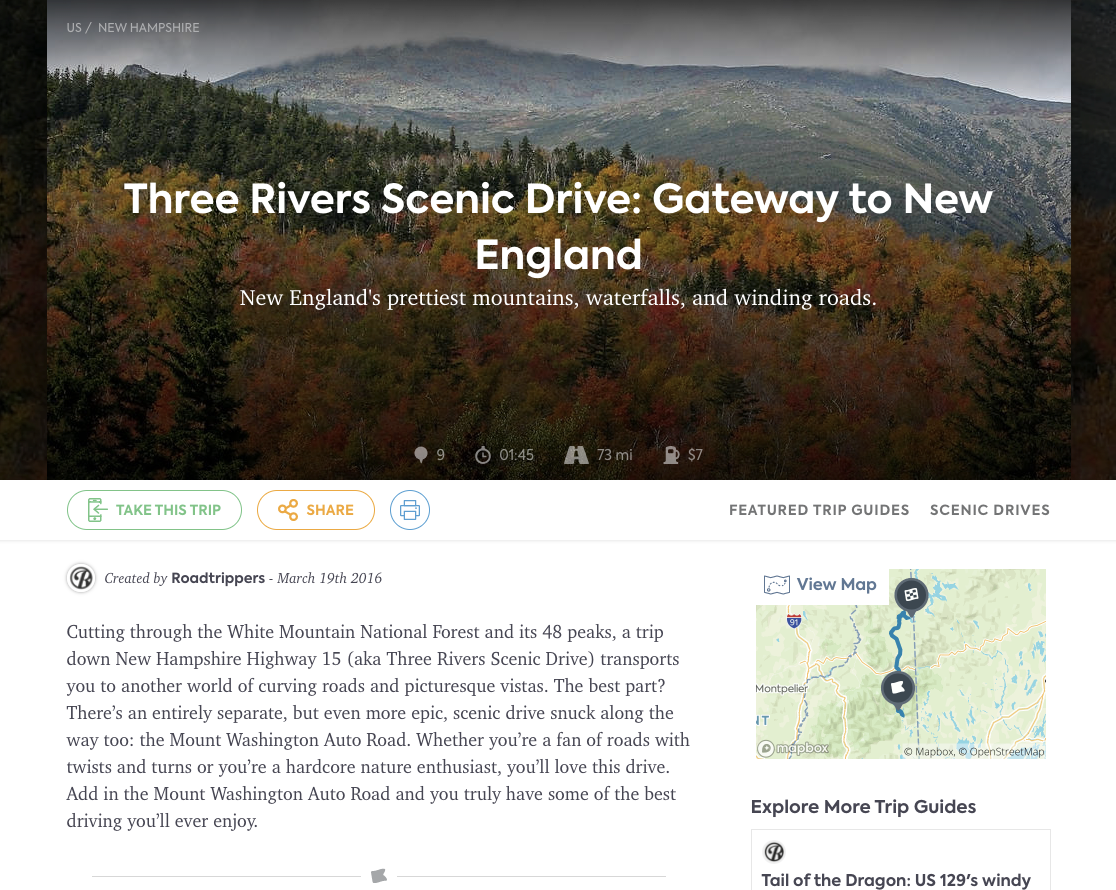 Moments
Photo and text moments are a great way to add detailed information about your trip via the you personal trip guide. Whether it is a photo of your family at your favorite attraction or a funny memory that you don't want to forget, moments make it simple to add this information. Follow the steps below to add moments!
Editing Trip Guides
Note that you can view trip guides on both the web and mobile apps, and you're currently only able to add moments and edit trip guides on the web app/desktop site.
Open the trip guide for your trip.
Hover your mouse over the + button next to the corresponding waypoint.
Select if you want to add a photo or text.
While adding your moment, you can drop a pin exactly where this moment happened on the map.