You can use Roadtrippers for navigation on your in-car display with Apple CarPlay.
If you have the Roadtrippers app on your mobile device and you connect it to a CarPlay-enabled vehicle you should see the Roadtrippers icon!
On the CarPlay screen, you can:
While using CarPlay, you can:
Recent Places, Saved, & Trips
When you tap the Roadtrippers icon on CarPlay a map will open. Tap that map and a drop down offering the ability to Search or Re-center will show at the top of your screen:

Tap Search and then select from Recent Places, Saved Places, or Trips to see place options associated with your Roadtrippers account. Tapping a place will launch navigation to that waypoint.
Recent Places: A list of the most recently navigated to places. Note that this list clears when the app gets closed.
Saved Places: A list of the closest 25 Saved Places from your account.
Trips: A list of your saved trips. Tap a trip to view the places within that trip and then select one to navigate to.
At this time, Roadtrippers does not offer full trip navigation. Instead, you should select the waypoint you are currently navigating to from the list in your trip.
Alternate Routes
When you start a new trip, alternate routes will be offered to you based on any routing options you have applied to your current trip. While navigating to your destination you will also be offered alternate routes as you near a reroute point.
To view alternate route options at any time while navigating, tap the map. A dropdown will appear and you can tap Alternatives to see other possible routes. Selecting an alternate route will immediately reroute your navigation.

View Entire Trip / Recenter Trip
To see your entire trip on the map on the CarPlay screen tap the squiggle lines at the bottom right of the screen. To view your entire trip on the map on your mobile device while using CarPlay tap the curved squiggle lines in the top right of the screen.

If your trip is off center due to dragging or panning, tapping the squiggle line icon will recenter the trip on your screen.
Enable or Mute Voice Directions
You can mute or activate voice directions on CarPlay or on your mobile device. To access voice options on CarPlay tap the map. A dropdown will appear and you can tap Mute or On.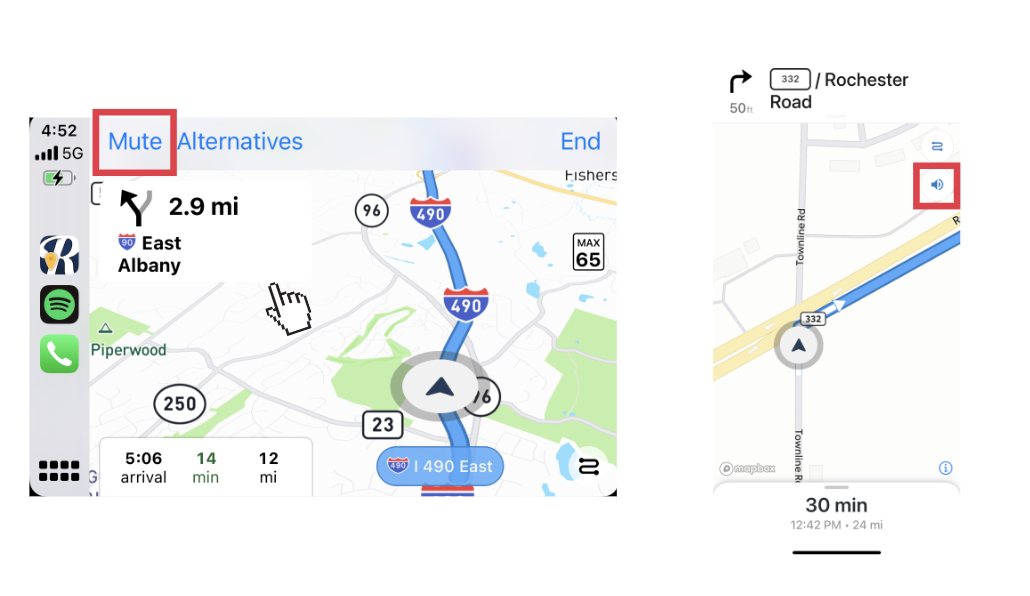 Starting Navigation from the Roadtrippers App
You can start a CarPlay navigation session directly from the Roadtrippers app. If your mobile device is currently connected to CarPlay and you begin navigating to a waypoint you should see navigation on your CarPlay screen. You can then use CarPlay to choose alternate routes, view the entire route, or mute or activate voice directions.
When you initiate navigation from the app on your mobile device you can apply routing preferences including Avoidances and RV Safety options to your trip.
Direction Steps List
While CarPlay navigates a map to your destination, you can also pull up a navigation steps list on your phone. To see navigation steps tap the info bar at the top of your device screen.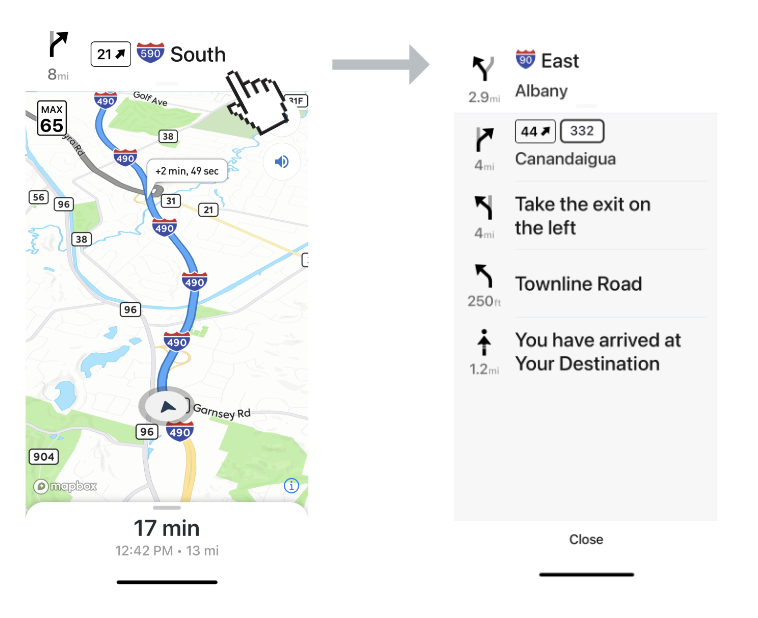 Roadtrippers does not support Android Auto at this time. If you're interested in seeing support for Android Auto while using Roadtrippers, let us know!