If you're planning a trip using the web app on our desktop site, this article will help you get started! If you're planning using our mobile app on iOS or Android, check out this article instead: Planning a Trip on Mobile App
Trip Planner
First thing's first - if you're on the Roadtrippers.com homepage, you can click the Trip Planner link at the top to start planning a trip, select the Plan a Road Trip button in the top right, or just enter your starting point and destination right on this page to get started.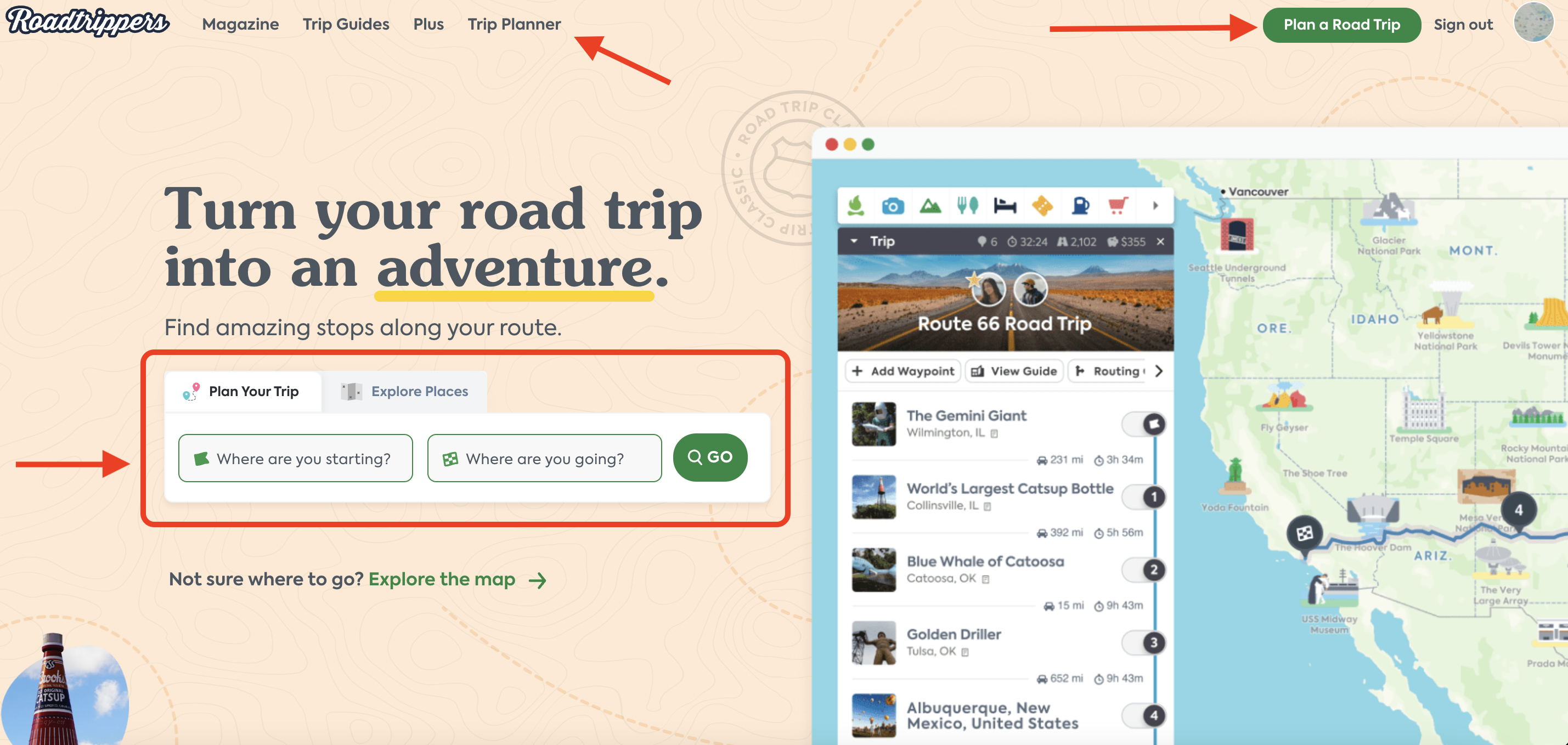 Starting a New Trip
Ready to plan your epic road trip!? If you clicked that Trip Planner link to load the map, there are a few quick and easy options for creating a trip:
Option 1: Click the Start New Trip button located at the top of the map.



Option 2: Click the 3 horizontal lines in the upper left to launch the Menu and click Start New Trip.



Option 3: If you're looking at your profile page, click Start New Trip at the top.


Setting Your Destination
After clicking one of these Start New Trip buttons, a new blank trip with a destination field asking 'Where are you going?' will come up to the left of the map.
Enter your destination in here. You can search for an address, city, or place (ex. Zion National Park). Matching options that we have on our map will come up in a list as you're typing.
Click to select your destination from the list and a trip will be automatically created with your current location as the starting point.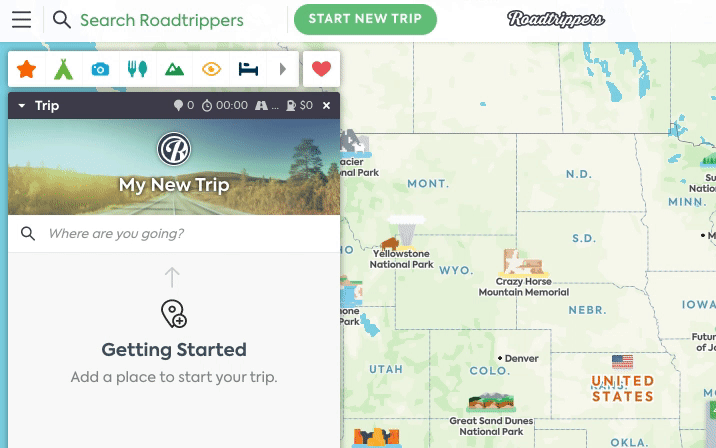 Adding Waypoints to Your Trip
After setting your destination, now it's time for the fun part - finding and adding stops along the way!
Click the + button at the top of your itinerary to manually add waypoints in the Trip Planner. Cities, addresses, and even attractions can be entered here!
Explore our categories of over 12,000,000 places to find places you'd like to check out.
Learn more!
Learn more about how to add places to your trip and explore our categories in the articles below:
Editing Your Waypoints
Remove a waypoint by hovering your mouse over the waypoint you want to be deleted and clicking the Edit button on the left, then click Remove Waypoint.
Rearrange waypoints

by clicking then dragging and dropping it in the list of waypoints.

Assign a date to a place

using the Set Date option after tapping a waypoint quickly.

Add a note to a place

using the Add Notes option after tapping a waypoint quickly.
Via Waypoints
Via waypoints are pins that are dropped after dragging a route. They are typically used to slightly modify a route between stops or to add a general area to a trip (such as a metropolitan area or region) without entering an address.
To drag a route and drop a via waypoint, start by hovering your mouse over the route until a dot appears along the line. Click and hold the dot, and begin moving it across the map. Notice that as you move it, the route automatically updates to show you where the trip will be going. This is handy if you are trying to avoid a specific road and vice versa.
Via waypoints will appear in the Trip Planner with the via symbol:
. They can be removed and rearranged just like regular waypoints as they can be rearranged, removed, and changed.
Learn more about customizing your route here!

Trip Stats
Once your trip is routed on the map, your Trip Stats will appear at the top of the trip planner. This includes the number of waypoints, the total estimated driving time for the trip, total estimated mileage, and estimated cost of gas.
Trip stats update automatically as changes are made to your trip and also appear in your Trip Guide.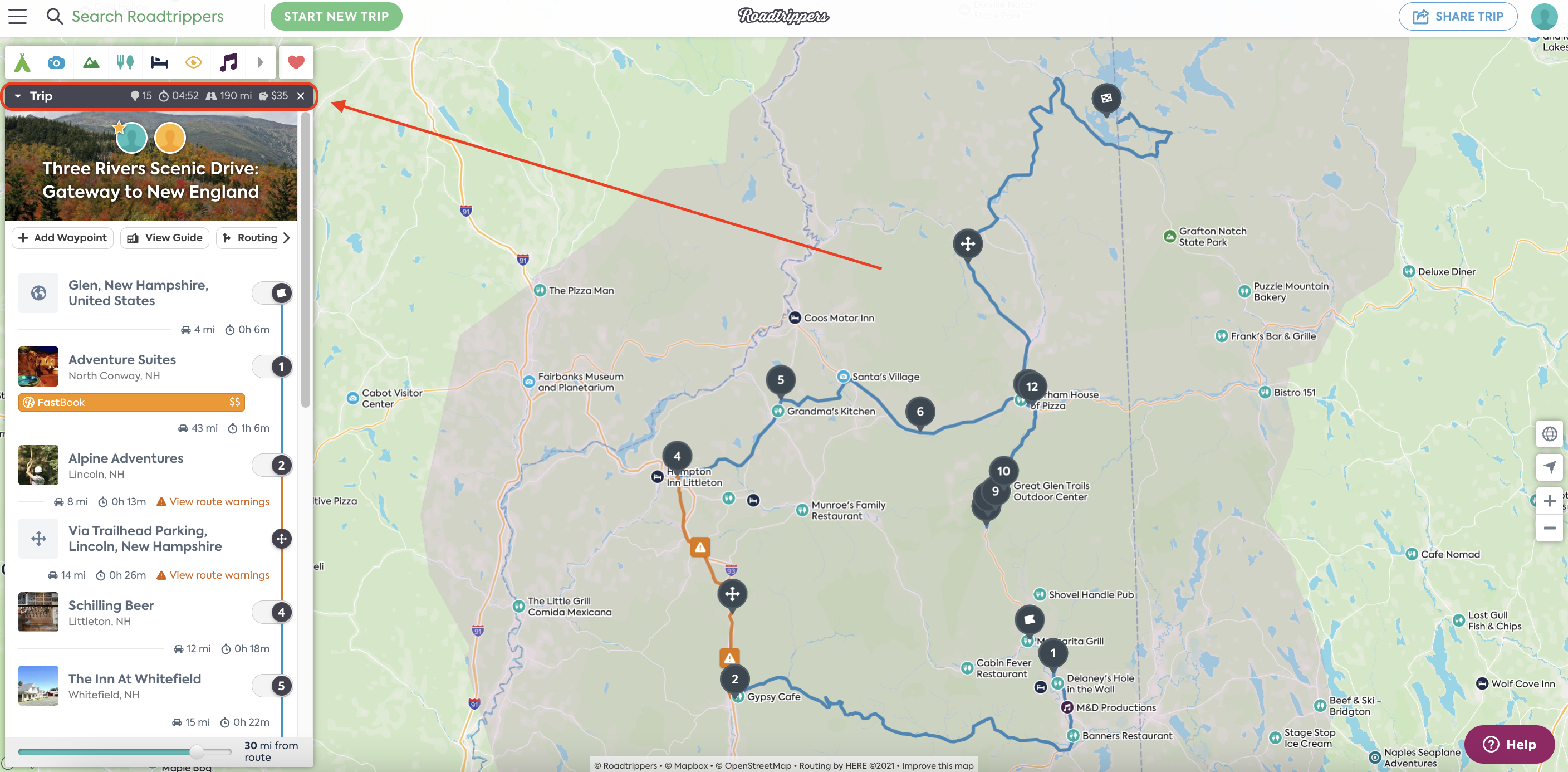 Distance Slider and Route Shade
The route shade is an area around your trip that can be expanded or contracted with the distance slider at the bottom of the Trip Planner. The distance slider indicates how far off your route you are willing to go to visit places and this limits where places load when exploring our categories while planning a trip.
The size of the shade will adjust as you move the distance slider. For example, if the distance slider is set to 30, all places within the shade are 30 miles from your route or less. Move the distance slider by clicking and dragging the marker.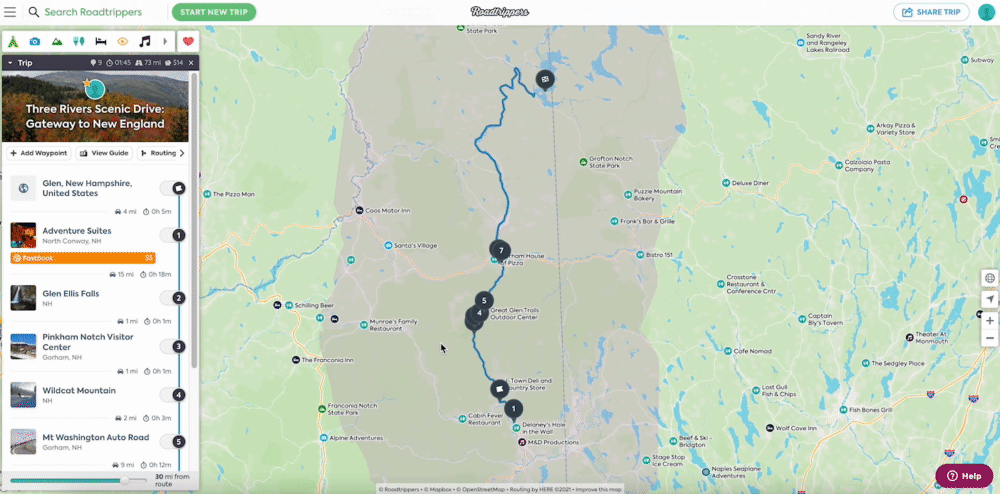 Customizing Trip Settings
Open the Trip Settings by hovering your mouse over the 3 vertical dots at the top of your trip and select the Trip Settings option.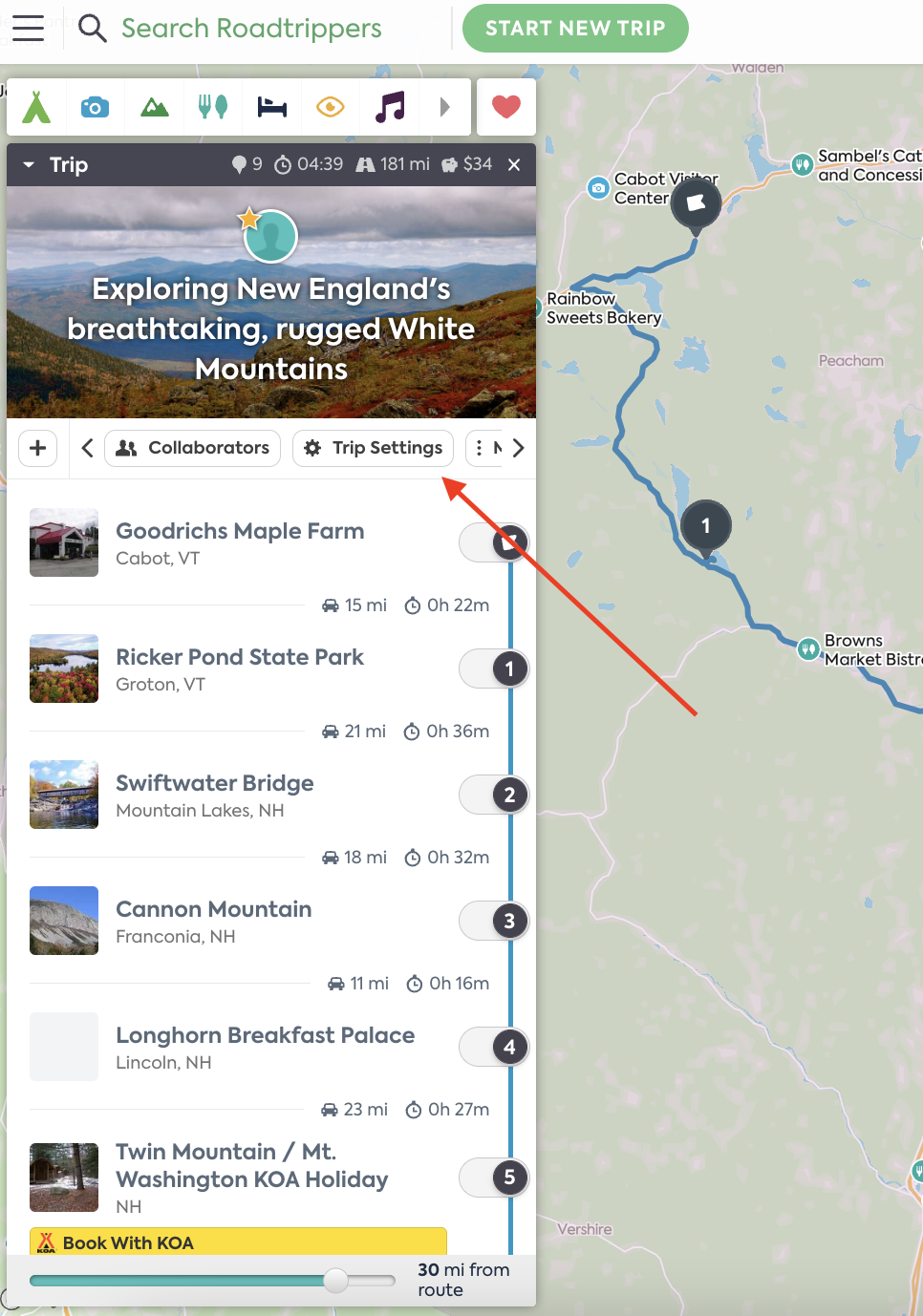 Under the Basics section:
Edit the name of your trip.
Edit your trip's privacy settings.
Enter a description for your trip, if you'd like.
Choose or upload a banner photo for your trip.
There's also a Vehicle & fuel section where you can specify your exact car type and adjust fuel settings.
If you have Roadtrippers Plus, you can go to the Friends section to invite people to collaborate on your trip.
The Guide section has options to customize your trip guide if you want to share an editorialized version of your trip with others. Learn more about this here: Trip Guides
Don't forget to click the Done button to save your changes!